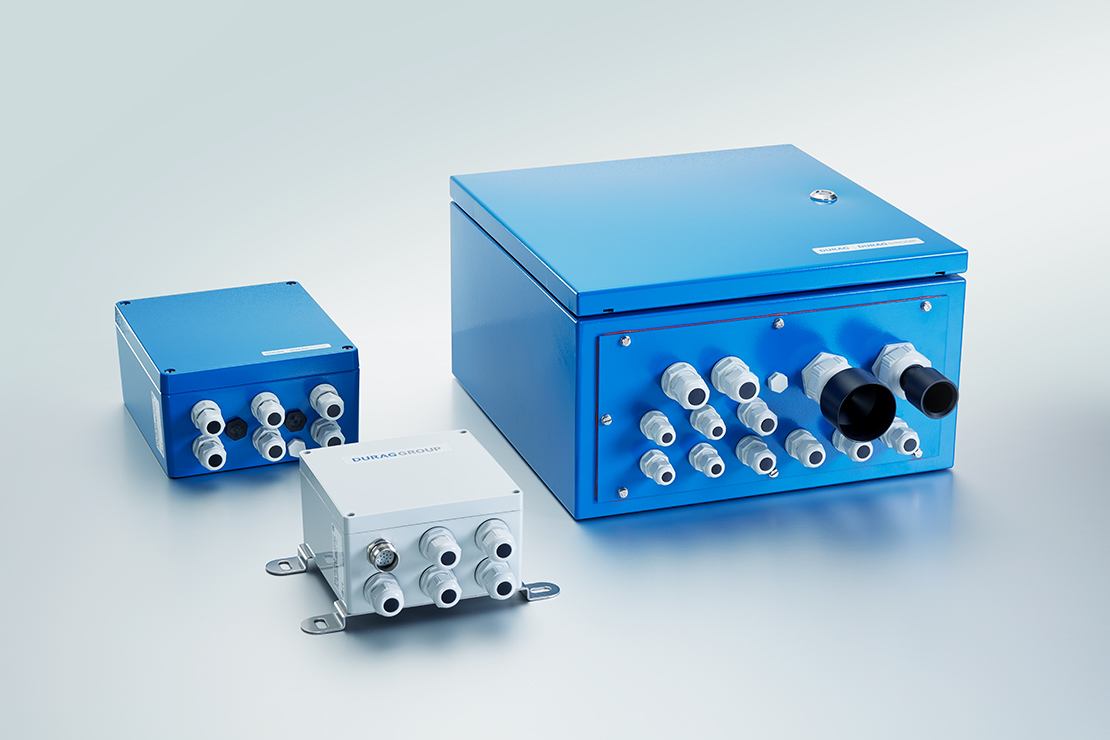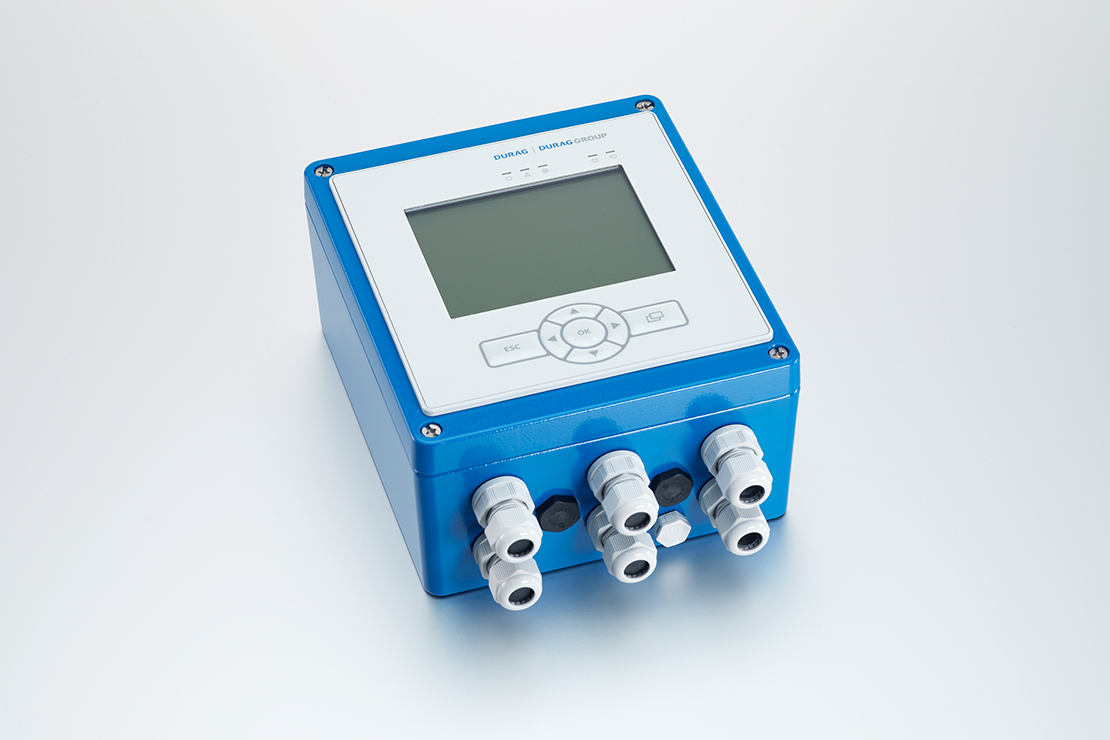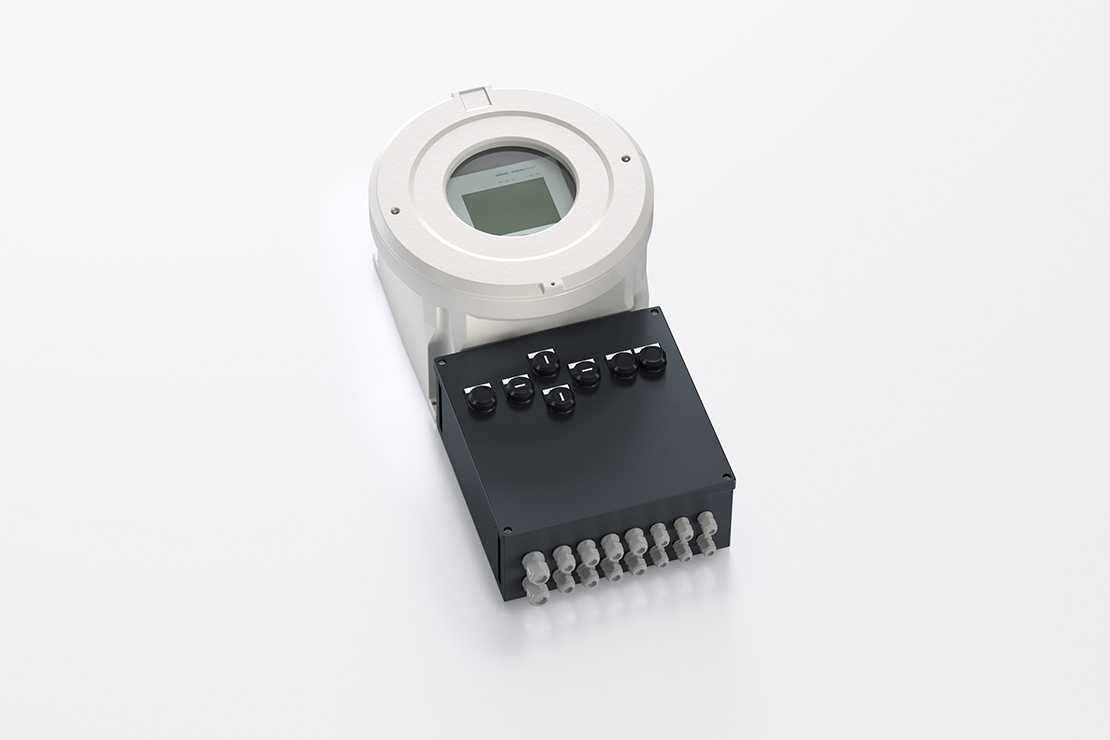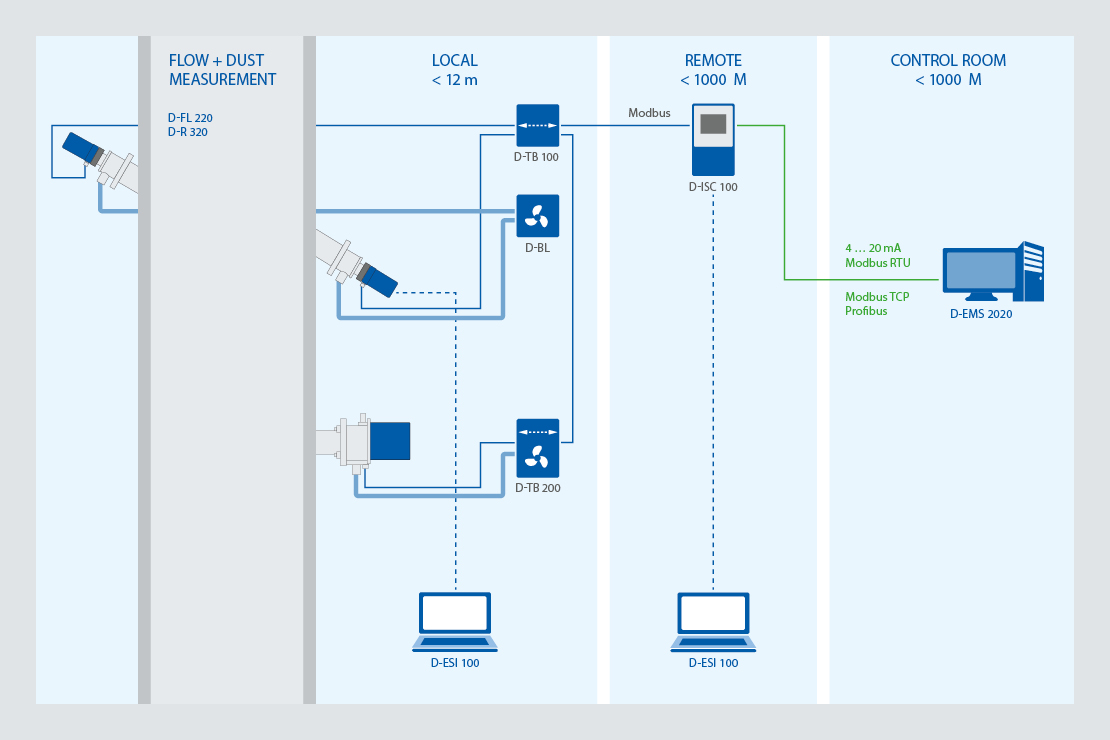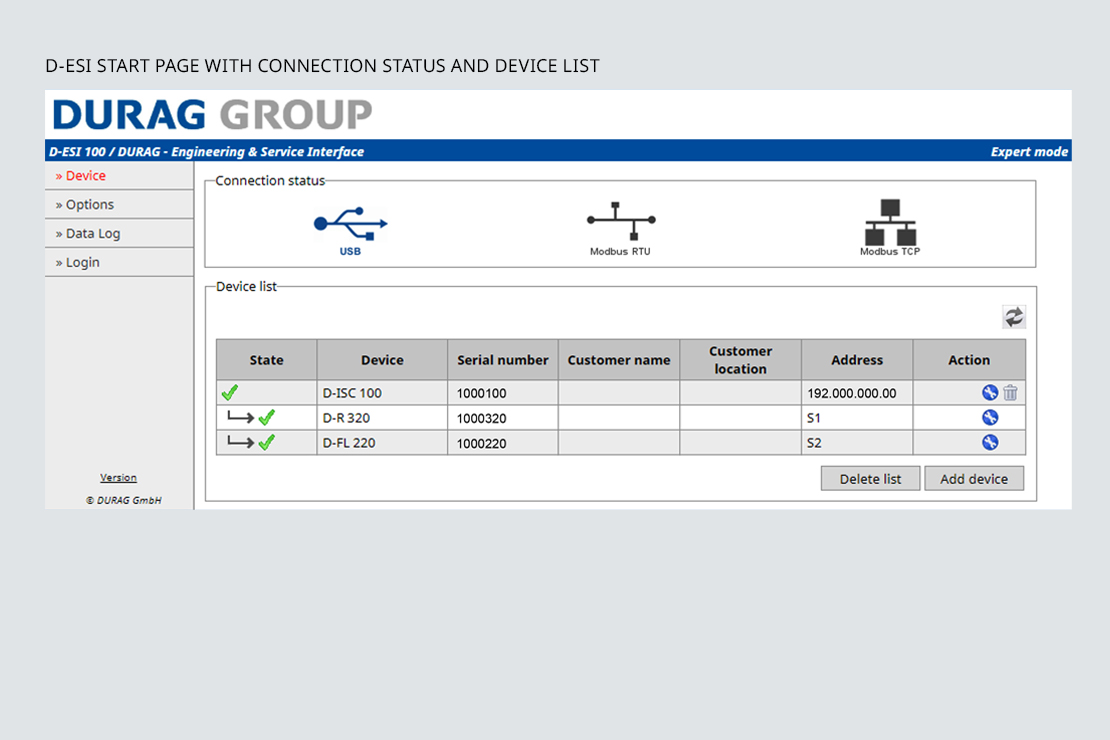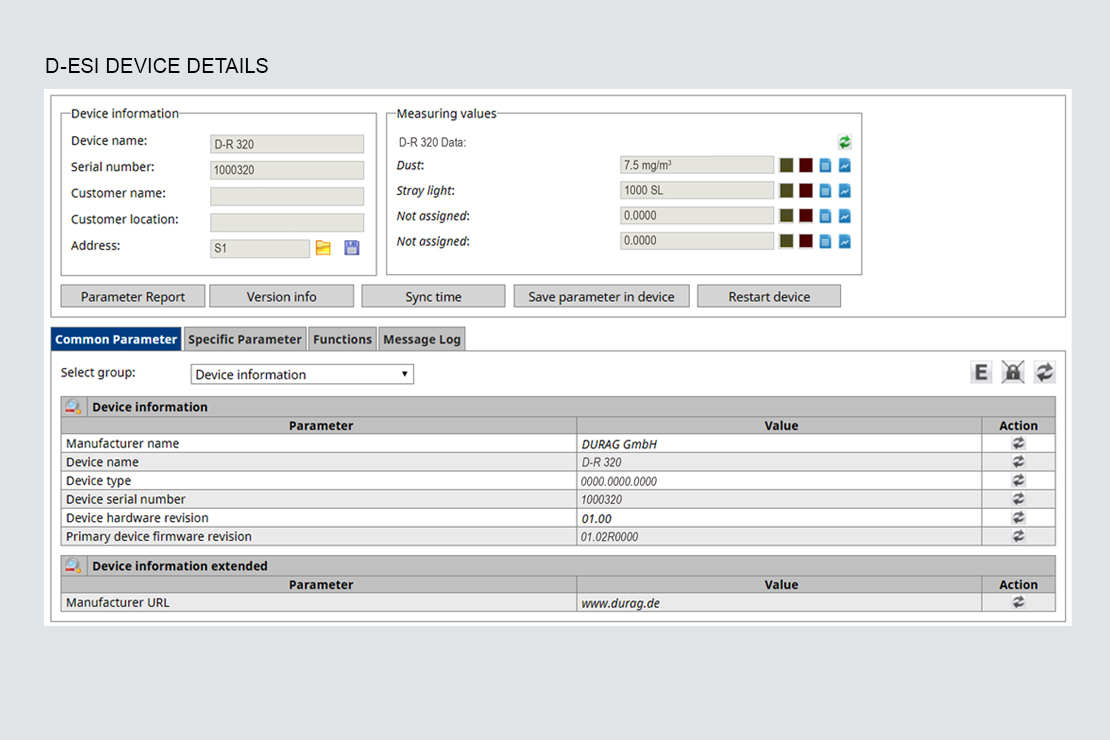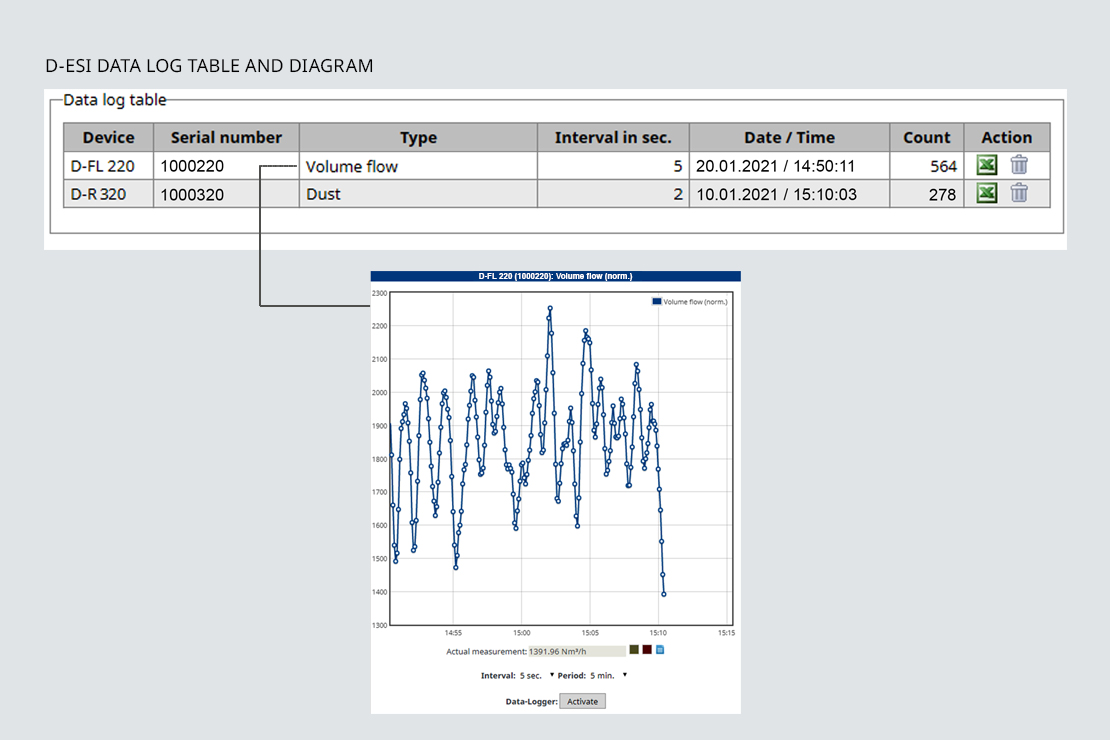 D-ISC | D-TB | D-ESI

DURAG Sensor accessories for supply and control
Versatile, combinable accessories for supplying DURAG sensors with power and purge air, as well as flexible control options.
Power supply
The power supply enables operation of the measuring devices in accordance with the applicable regulations on electrical safety. Depending on the ambient conditions at the installation location, suitable housings are required to protect the component.
Purge air supply

The purge air supply protects the measuring devices from contamination, maximizing maintenance intervals and extending the life time.
Control

The user interface allows measuring devices to be set individually using various parameters. Current measured values, maintenance information and error messages can be easily displayed. Necessary maintenance and service functions can be triggered directly.
Features
Flexible combination of power supply and optional purge air supply and/or operation in one device
Management and operation of multiple sensors using only one operating unit and/or operating software program
Remote access via operating software
Protective housing in various designs
Connection of multiple operating units in series

Benefits
Space-saving and simplified installation
Easy and efficient system installations
Operation anytime and anywhere
Suitable for use in extreme ambient conditions and in Ex zones
Reliable operation at various distances from the sensor installation location

Technical Data
Operating unit D-ISC 100

Supply unit D-TB x00

Purge air unit D-BL xxx

Operating software D-ESI 100
Brief product description
Operating unit including power supply and optional purge air supply
Compatibility
Volume flow: D-FL 100, D-FL 220, D-FL 220T

Dust: D-R 220, D-R 220T, D-R 290 2G, D-R 320, D-R 808

Number of measuring devices
Control: up to 8 measuring devices

Power supply: up to 1 measuring device

Purge air supply (optional): up to 1 measuring device

Ambient conditions
Temperature:

-20 … +50 °C

-40 … +60 °C (optional)

Relative humidity:

0 … 95%, non-condensing, ≥ 95% with weather protection cover (optional)

Altitude:

≤ 2000 m

Interfaces
USB, Modbus RTU (optional), Modbus TCP (optional)

Expansion modules (optional)*: Profibus DP

Inputs and outputs
Analog output: 1x 4 … 20 mA, maximum 400 Ω, potential-free (various parameters configurable)

Digital output: 2x NC/NO, maximum 60 V=, 30 V~, 0,5 A, potential-free (various parameters configurable)

Expansion modules (optional)*:

Analog output: 4x 4 … 20 mA

Analog input: 4x 4 … 20 mA

Digital output: 8x NC/NO

Digital input: 8x NC/NO

Operation and display
Graphic LC with keypad

Status display: 5x LED

Remote access: USB, Modbus RTU (optional), Modbus TCP (optional)

Explosion protection
Optional

ATEX:

II 2 G Ex db eb IIC T4 Gb

II 2 D Ex tb IIIC T 80 °C Db IP66

–20 °C … +50 °C

IECEx:

Ex db eb IIC T4 Gb

Ex tb IIIC T 80 °C Db IP66

–20 °C … +50 °C
* Data per module, maximum number of modules: 0 … 4, depending on product variant
Brief product description
Supply unit including optional purge air supply
Compatibility
Volume flow: D-FL 100, D-FL 220, D-FL 220T

Dust: D-R 220, D-R 220T, D-R 290 2G, D-R 320, D-R 808

Number of measuring devices
Control: n/a

Power supply: up to 1 measuring device

Purge air supply (optional): up to 1 measuring device

Ambient conditions
Temperature:

-25 … +55 °C

-40 … +60 °C (optional)

-40 … +55 °C (Ex)

Relative humidity:

0 … 95%, non-condensing

Altitude:

≤ 2000 m

Interfaces
n/a
Inputs and outputs
n/a
Display and control
n/a
Explosion protection
Optional

ATEX:

Ex II 2 GD Ex d IIC T5 Gb Ex tb IIIC T100°C Db
Brief product description
Purge air unit
Compatibility
Volume flow: D-FL 220

Dust: D-R 290

Number of measuring devices
Control: n/a

Power supply: n/a

Purge air supply: 1 measuring device

Ambient conditions
Temperature:

-20 … +50 °C

-40 … +50 °C (optional)

Relative humidity:

0 … 95%, non-condensing, ≥ 95% with weather protection cover (optional)

Altitude:

≤ 2000 m

Interfaces
n/a
Inputs and outputs
n/a
Display and control
n/a
Explosion protection
Optional

ATEX:

II 3/2 G c T3

II 3 G c T3

II 3 D c T125°C
Brief product description
Operating and service software
Compatibility
Volume flow: D-FL 100, D-FL 220, D-FL 220T

Dust: D-R 220, D-R 220T, D-R 290 2G, D-R 320, D-R 808

Control: D-ISC 100**

Number of measuring devices
Control: any

Power supply: n/a

Purge air supply: n/a

Ambient conditions
Depending on end-user device
Interfaces
n/a
Inputs and outputs
n/a
Display and control
Software web interface**

D-ESI 100 Windows tablet PC 10″ (optional)

Remote access: software web interface**

Explosion protection
n/a
* In combination with a D-ISC 100 all connected measuring devices can be accessed
** Requires Windows PC
Downloads